so in our living/dining area we have some sliding doors. i had been trying to find some drapes to go there and was getting pretty discouraged. i didn't want anything too trendy because... well i just didn't. i wanted a pattern that i could look at forever and always love, not something that is just cool for right now. with all the rustic and masculine details around the area, i felt we really needed a floral pattern. in the beginning i just wanted some plain white drapes with black stripes. sounds easy enough to find right? no. not at all. drapes are hard because you can either buy custom ones that cost a pretty penny, or you can find some that are trendy and cheap at stores like world market, target or home goods. but even those stores didn't have that. there was a time a few months back where you could show me any drape (from a typical chain store) and i could tell you exactly how much it was and where it was from. i did so much research. so i started off with an ikat pattern from burlington coat factory. they were yellow and gray and were a great deal. i came home, put them up and then sat on the couch. and stared. and then felt unsatisfied. i did this with 8 different drapes. i was smart and always kept the receipt and packaging though. i had a routine down. i would let each of them hang for a day and then i'd return them. by the time i got to the 8th pair, i was so done with looking for drapes that i threw all the packaging away and told myself to just be happy. they weren't cheap but were quality. and what pattern did i go with? plain white. which made the room feel totally boring.
a few weeks later, my sweet bf jess came down to visit. we were doing some shopping at marshall's when we noticed a really cute and classic floral pattern... in the form of a duvet cover. can you guess what was on the fabric? yes, big beautiful red flowers. grant came in to check out my cart (i guess we like making decisions together... i mean it's
our
house not mine). and then we came home with the duvet hoping we could figure something out. here is what we did-
step 1: we ripped the duvet straight down the middle. took the left plain white drape and laid it on the ground. then we spread out one of the duvet sides on top of that drape.
step 2: we placed it exactly where we wanted it and then pinned it down. we were OCD about straightening the fabric because we didn't want any air pockets between the drape and duvet cover. and by OCD i mean straightening it like every 20 seconds.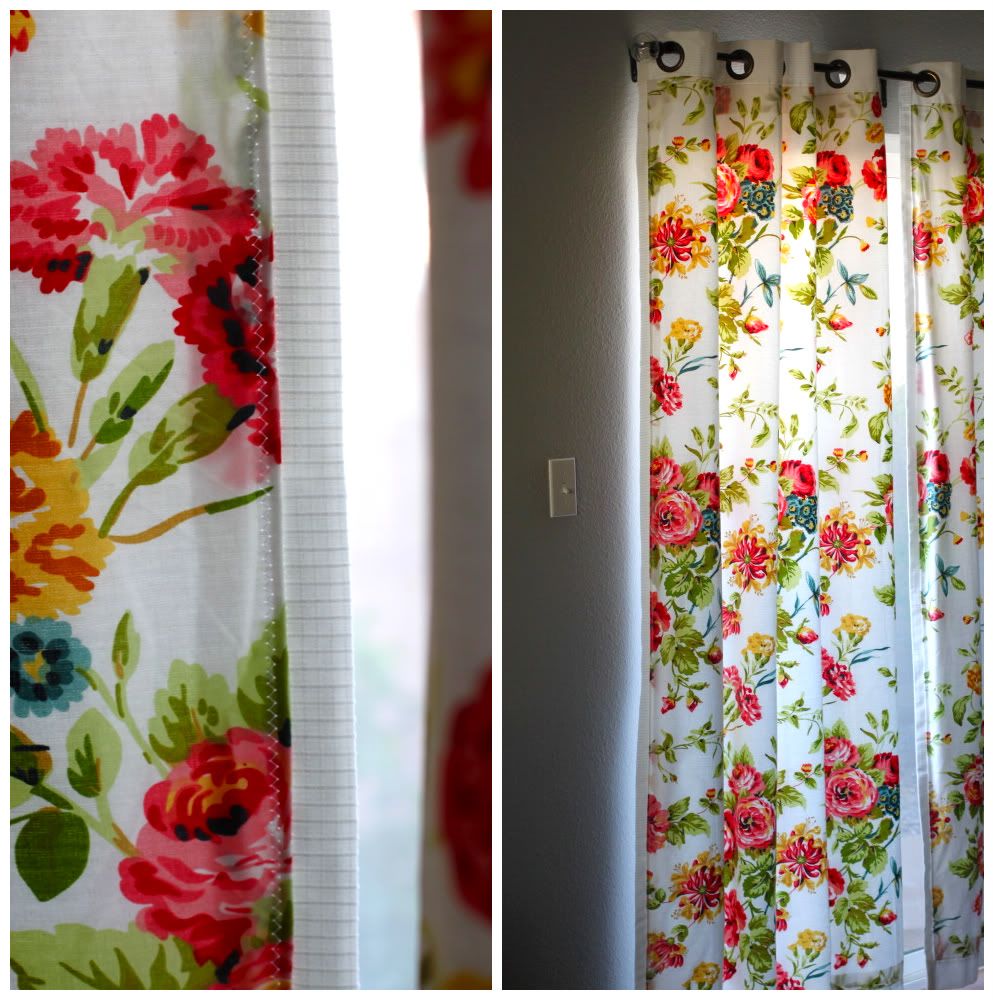 this tutorial is linked here: (go check out all the fun projects!)